Image: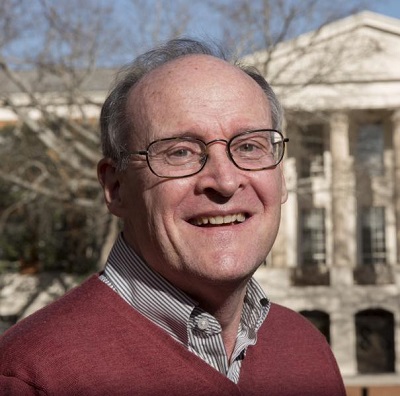 from the Georgia Historical Society:
On October 21, 2016, the Georgia Historical Society will present the John Macpherson Berrien Award for lifetime achievement to Dr. John C. Inscoe, the Albert B. Saye Professor of History and University Professor at the University of Georgia.
The Berrien Award is given for a lifetime of achievement in and service to Georgia history. This merit-based award is given at the discretion of the Georgia Historical Society. The award was established in 2000 and named in honor of John Macpherson Berrien, one of the founders of GHS and the Society's first president. He also served in the U.S. Senate and as Attorney General.
John Inscoe has taught at the University of Georgia for 32 years. He is the author of four books, editor of ten others, and writer of 46 articles, essays, and book chapters. His books include Mountain Masters: Slavery and the Sectional Crisis in Western North Carolina; Race, War, and Remembrance in the Appalachian South; Writing the Southern through the Self: Explorations in Southern Autobiography, and The Heart of Confederate Appalachia: The Civil War in Western North Carolina (co-author). He has served as the the editor of the on-line New Georgia Encyclopedia since 1999.  He edited the Georgia Historical Quarterly for eleven years and and served as Secretary-Treasurer of the Southern Historical Association from 2000 through 2014.
For more information, please contact Patricia Meagher at pmeagher@georgiahistory.com or 912-651-2125, ext. 153.