Image: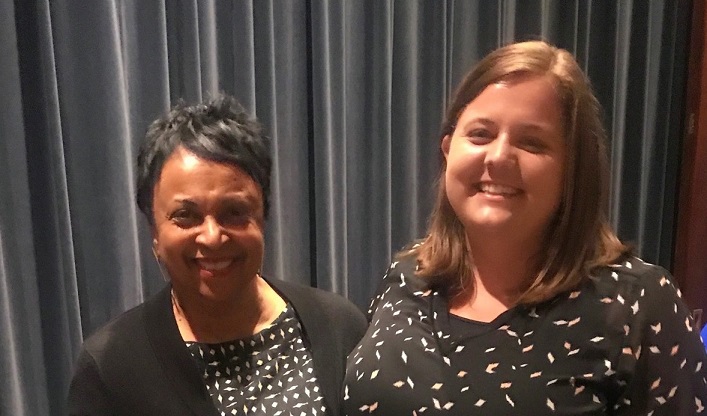 The history department's Public History in Washington D.C. summer internship program is in its second year of providing public history courses and course credit for our students holding prestigious and highly competitive internship position at historic and cultural institutions in Washington. Directed by Dr. Akela Reason, this year's group has begun their two-month internship term, after completing Dr. Reason's HIST4025/6025 course in May. Students studied the history of major cultural institutions in the nation's capital, and interacted with public history professionals such as State Department historian and UGA alum Elizabeth Charles (AB history '98) during their D.C. experience, to review contemporary issues in the field.
Kaitlin Dotson (pictured here on the right, next to Carla Hayden), a senior history major interning at the Library of Congress American Folklife Center, had the unique opportunity just the other day of meeting Carla Hayden, the 14th Librarian of Congress and first African American Librarian of Congress. "It was very exciting," Kaitlin said, "and I was quite nervous. She is very nice, and we spoke briefly. It was a great experience; I remember watching the live stream of her swearing in on my phone last fall right before your Museums class began".
Although our public history students do not have to be a history major (all majors and transient students are welcome to apply), the competitive application process ensures that all students have an appropriate course background for their internships. Many students take Dr. Reason's class on material culture in preparation for a career in public history (HIST4025). Program students this year were majors from history, women's studies, history/SPIA, Social Studies Ed, and Accounting. Many of the students this year were awarded scholarships to help pay for program costs, including the history department study abroad scholarship, the Experiential Learning Scholarship, the Zell Miller Scholarship, and the HOPE scholarship. Master's student Zachary Allen was the first graduate student to join the public history program, which has expanded to accommodate graduate curricula. Allen was awarded a full program scholarship, funded by a graduate program enhancement grant from the Graduate School.
This year, students were awarded internships at the following institutions: the National Archives, Bering Education Center, the Tudor Place Museum, the Smithsonian American Art Museum, The Library of Congress, American Folklife Center, the American Historical Association, the Library of Congress Historic Newspaper division, Women's History and Resource Center of the General Federation of Women's Clubs, the Library of Congress, Chronicling America division, the American Historical Association, and the new National Museum of African American History and Culture. We are please to report that next summer's studnets will aslo have the opportunity to apply for a number of National Park Service internships in the capitol area, as part of our summer internship program in public history.
If you are a student interested in applying for the Public History in Washington D.C. summer program at the University of Georgia, see our website for more information. Dr. Reason will be holding information sessions during early in the fall term.