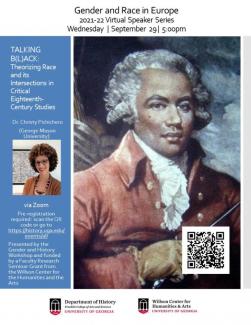 Dr. Christy Pichichero
George Mason University
via Zoom
The History and Gender Workshop presents a virtual speaker series on Gender and Race in Europe. Please join us for this event featuring Dr. Christy Pichichero, "TALKING B(L)ACK: Theorizing Race and its Intersections in Critical Eighteenth-Century Studies." 5:00 - 6:30 PM. Pre-registration is required.
Dr. Pichichero is a literary scholar and cultural historian of early modern France and the French Empire. Her research is deeply interdisciplinary and her work on neoclassical French theater, early modern theories of language, the culture of war, the history of emotions, Critical Race Theory, and multiculturalism have appeared in venues such as French Historical Studies, Modern Language Notes, Renaissance Drama, and Studies in Eighteenth-Century Culture.
Presented by the Gender and History Workshop and funded by a Faculty Research Seminar Grant from the Willson Center for the Humanities and the Arts.