Brad Schrade, on reporting
Historians and journalists have a lot in common, and Brad Schrade would know. Since earning his BA in history and English at UGA, and then an MA in history here, too, he has worked as a reporter at several papers in the States, including the Minneapolis Star Tribune, where he was part of a team that won a Pulitzer Prize in local reporting in 2013, for its work on systemic problems in home daycares in Minnesota. He's currently an investigative reporter and editor at the Atlanta Journal-Constitution.
It all began with a reporting job at The Red & Black. Brad took to it right away: "It fed into what I liked about history, which was that you're constantly feeding your curiosity."
Sure, history and journalism have their differences. Historians are mostly used to flying solo, and many reporters work in teams. Writing an academic book takes years; reporters are used to deadlines in days.
But both require a nose for evidence. When reporters at the AJC decided to investigate fatal police shootings in Georgia, for example, they had to treat the state itself as a kind of archive, because nobody had ever tracked that information in Georgia before. Brad and his colleagues went across the state talking to DAs, police departments, and the Georgia Bureau of Investigation — all just to compile a "simple" list. And once you've got your data, the challenge is to link the big picture to the personal, to figure out what the greater significance of the sources is, but also to tell a story in a way that resonates with readers.
So investigative journalism requires real immersive work in a subject that resembles the critical analysis that historians are after: it starts with a good question and draws on as many perspectives as possible to answer it.
"Most good reporting starts with curiosity, with wanting to know more about what's really going on. And it's a lot of compiling data, records, talking to people...Ultimately you're trying to get at the truth of something. And usually the best investigative stories are usually uncovering, highlighting, or exposing some kind of harm and holding someone or some institution accountable."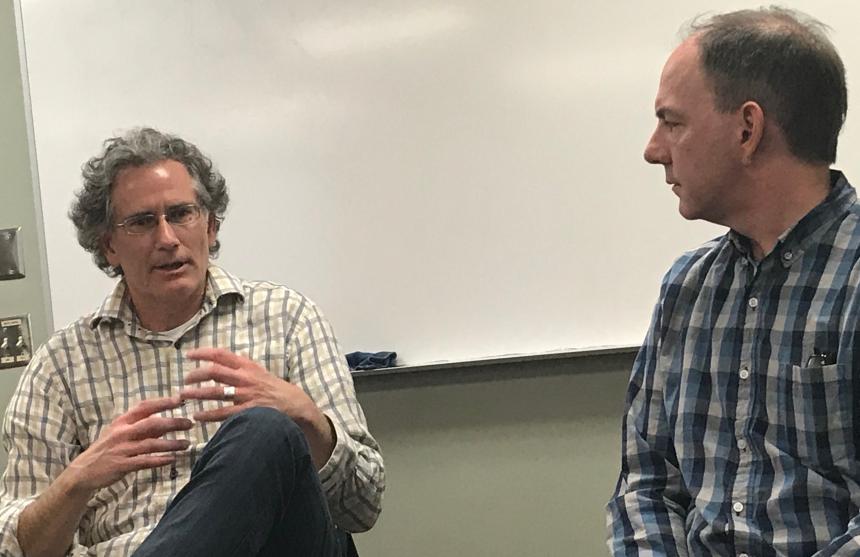 (Back to History at Work Speaker Series)