Graduate Alumni Profiles
James Hill "Trae" Welborn III (2014)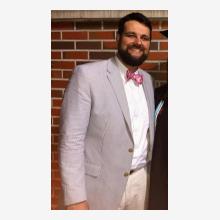 Trae Welborn is Associate Professor of History at Georgia College & State University. Born in Charleston, South Carolina, reared in Fernandina Beach, Florida, and educated at Clemson University (BA 2005, MA 2007) and the University of Georgia (PhD 2014), Dr. Welborn specializes in American cultural history, with an emphasis on the emotional dimensions of evolving conceptions of virtue, vice, and the role of violence in shaping these cultural values during the American Civil War Era (1820-1880) and the long Nineteenth Century (1780-1920). His scholarship and teaching also engages topics related to Civil War memory and Southern foodways that further incorporate issues of cultural diversity as they evolved over the eighteenth, nineteenth, and twentieth centuries in American history.
   
   His forthcoming (Spring 2023) book entitled Dueling Cultures, Damnable Legacies: Southern Violence & White Supremacy in the Civil War Era is under contract with the University of Virginia Press. He contributed a chapter entitled "Manifest Mythology: Cinematic Distortions of Antebellum American Imperialism & Manhood" in Martial Culture, Silver Screen: War Movies and the Construction of American Identity, edited by Matthew C. Hulbert & Matthew E. Stanley and published with LSU Press in November 2020. He authored an article entitled "Like Father, Like Son?: The Emotions of White Southern Manhood, Ministry, & Mastery During the Antebellum Sectional Crisis" published December 2021 with the Journal of Southern Religion, and is currently co-editing a forthcoming (Fall 2023) book volume entitled Playing at War: Identity & Memory in American Civil War Era Video Games under contract with LSU Press. He co-authored an article with Dr. Stephen Berry (University of Georgia) entitled "The Cane of his Existence: Depression, Damage, and the Brooks-Sumner Affair" in the Winter 2014 edition of Southern Cultures. And he authored an article entitled "Dispensing the Progressive State: Benjamin Tillman's South Carolina State Dispensary" in the Winter 2013 edition of The Social History of Alcohol & Drugs: An Interdisciplinary Journal. He also serves as co-director (with Dr. Craig Pascoe, GCSU) of www.georgiabbqtrails.com, a site dedicated to exploring Georgia's history and culture through barbecue and is a core faculty member in the "Global Foodways Studies Certificate Program" at GCSU.
   
   He is currently president of the St. George Tucker Society, an interdisciplinary scholarly organization dedicated to the study of the American South, and serves on the Executive Board for the Georgia Association of Historians. He has reviewed works for The Journal of Southern History, The Journal of the Civil War Era, Civil War History, The Civil War Monitor, The North Carolina Historical Quarterly, The Georgia Historical Quarterly, The Journal of American Ethnic History, The Journal of Southern Religion, Southern Historian, Social History of Alcohol & Drugs, American Nineteenth Century History, and Agricultural History. He is an active member of the Southern Historical Association, Society of Civil War Historians, St. George Tucker Society, South Carolina Historical Society, South Carolina Historical Association, Georgia Association of Historians, and the Georgia Historical Society.
Tore Olsson (2013)
Tore Olsson is Assistant Professor of History at the University of Tennessee. Olsson's teaching and research examine the twentieth-century United States in global perspective, with an emphasis on agriculture, food, environment, rural history, and Latin America, particularly Mexico. Olsson is working on his first book, titled Remaking the Rural World: The American South and Mexico in the Twentieth Century (under contract, Princeton University Press), which is based on his 2013 dissertation, which was recently the winner of the Oxford University Press USA Dissertation Prize in International History, granted by the Society for Historians of American Foreign Relations, and the Gilbert C. Fite Dissertation Award for best dissertation in agricultural history from the Agricultural History Society. His research for the dissertation and manuscript has been funded by the Social Science Research Council, the Miller Center for Public Affairs at the University of Virginia, the Society for Historians of American Foreign Relations, and several others.
Joshua Haynes (2013)
Joshua Haynes is Visiting Assistant Professor at Miami University in Ohio. Dr. Haynes has been offered an advance contract by SUNY Press for his manuscript, "Patrolling the Border: Theft and Violence on the Creek-Georgia Frontier, 1770-1796," for inclusion in the Native Traces Series.  From 1770 to 1796, Muskogee Creek Indians and colonists engaged in what is often described as chaotic frontier violence.  Dr. Haynes argues that the period instead should be viewed as the struggle of non-state indigenous people to develop a state in response to the threat of colonization.  Using database and mapping applications, he has identified a pattern of Creek raiding that he describes as politically motivated border patrols.  Drawing on pre-contact ideas and two hundred years of political innovation, border patrols harnessed a popular spirit of unity to defend Creek country.  Their actions, however, sharpened divisions over political leadership.  As a state-like institution, border patrols are the key to understanding political violence that otherwise seems random.
Darren Grem (2010)
Darren Grem is assistant professor at the University of Mississippi. He is the author of Corporate Revivals: Big Business and the Making of the Evangelical Right (under contract, Oxford University Press), a book that details how conservative evangelicals strategically used business leaders, organizations, methods, and money to advance their religious and political ambitions in twentieth-century America.  The dissertation on which this book is based won the Southern Historical Association's C. Vann Woodward Prize for "best dissertation" and the University of Georgia's Robert C. Anderson Award for "outstanding dissertation in the humanities."   Published excerpts examine the business practices and religious activism of fast-food chain Chick-fil-A, the businessmen who backed mid-century evangelical startups like Christianity Today magazine, and the role of religious marketing at Heritage USA, a now-defunct Christian theme park once run by televangelists Jim and Tammy Faye Bakker. Currently, Grem is beginning research on a second long-term project, tentatively titled Hard Times Ain't Gonna Rule My Mind: Postwar Americans and the Great Depression.  It will be an expansive study of how postwar Americans remembered and used the Great Depression in popular culture (music, literature, art, film), in memorial sites and veneration, in sacred and quotidian practice, and in political activism for and against the New Deal state.
Christopher Manganiello (2010)
Christopher J. Manganiello has served as the Policy Director at Georgia River Network since January 2012.  Prior to that he was a University of Georgia and Georgia Gwinnett College faculty member.  Chris has published in the Journal of the History of Biology and the Journal of Southern History, and was co-editor, with Paul S. Sutter, of Environmental History and the American South: A Reader (University of Georgia Press, 2009).  He is working on a book, titled Southern Water, Southern Power: How the Politics of Cheap Energy and Water Scarcity Shaped a Region (The University of North Carolina Press, forthcoming in 2015).
Jenny Schwartzberg (2010)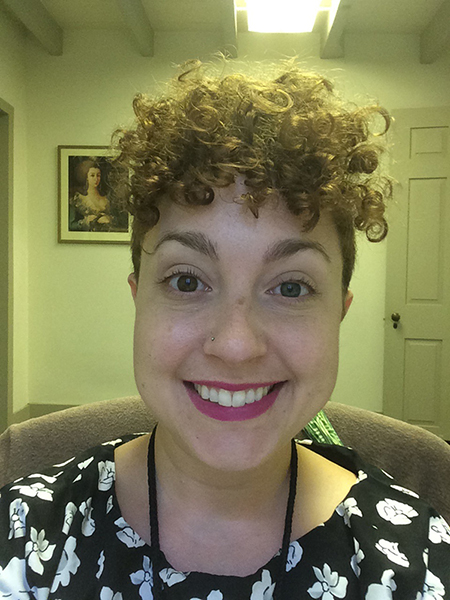 What is your current job?
I'm currently working as the Education Coordinator at The Historic New Orleans Collection - we're a museum, publishing house, and research center located in the French Quarter. My main duties center on developing curriculum based on our holdings, creating and leading professional development opportunities for educators, and working with students to conduct research in our archives.
How did you find this job?
The main requirements for this position were teaching experience, the ability to connect with educators and students in a meaningful way, and the capacity to be adaptable and flexible in teaching methods. It's been exciting to explore education outside of the classroom, while still having that direct link to history and teaching.
What other jobs had you had since graduating?
Before starting at THNOC, I taught history at Delgado Community College in New Orleans. It was a big shift to move from UGA's classrooms to Delgado's - most students were first in their families to attend college and came from under-served neighborhoods. Teaching at DCC helped me to develop a student-centered teaching philosophy that still guides my educational outlook.
How does your job play to strengths you developed as a graduate student in history?
Definitely - my time at UGA helped me develop the ability to make history accessible to students. I tend to focus on social and cultural history, as I find that students tend to gravitate more towards recognizable themes and ideas - this is something I picked up from TAing for Drs. Shane Hamilton, Miranda Pollard, and Steven Soper. Above all, working with Dr. John Morrow has had an enormous impact on my development as an educator - his passion, eye for analysis, and sense of humor have been hugely influential in shaping how I work with history.
Ken Shefsiek (2010)
Since 2012, Ken has been an Assistant Professor of History at the University of North Carolina Wilmington, where he also directs the graduate program in public history. He is the author of Set in Stone: Creating and Commemorating a Hudson Valley Culture, recently released by the State University of New York Press. Using a microhistorical approach, he explores ethnocultural creolization during the long eighteenth century in a community founded by Walloons in a Dutch cultural region in an English colony. He further explores the nineteenth-century commemoration of New York's historic ethnic diversity in the context of scientific racism. Between 2006 and 2012, Ken served at the director of the Geneva (NY) Historical Society, overseeing the operations of a local history museum and three historic house museums.
Drew Swanson (2010)
Drew Swanson is Assistant Professor of History at Wright State University, where he teaches classes in American, environmental, food, and 19th century history.  Born in rural Virginia, he is a graduate of the University of Georgia and worked as a farmer, zookeeper, and natural resource manager before turning to academia.  Prior to accepting a position at Wright State, he taught at Millsaps College in Jackson, Mississippi, as an Andrew W. Mellon Foundation postdoctoral fellow.
Matthew L. Fincher (2001)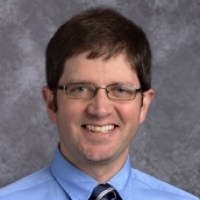 What is your current job?
I teach AP United States History, AP United States Government & Politics, and Dual Credit/College Prep History at Greater Atlanta Christian School in Norcross, GA. I also serve as Director of Academic Competitions and Head Coach of the High School Academic Teams.
How did you find this job?
I went to school at GACS, so that gave me an inside shot, but my M.A. at the University of Georgia was a major reason for getting me the job. Teaching experience and a graduate degree is strongly preferred for candidates
What other jobs had you had since graduating?
 I've also served as a Social Studies Teacher at Westside High School in Macon, Georgia. I found it by applying to Bibb County Schools.
How does your job play to strengths you developed as a graduate student in history?
Yes, I learned to lead discussions over primary sources as a teaching assistant in the Department of History, and that has certainly helped. UGA also furthered my ability to digest historical material rapidly and express it more concisely. It has also helped me to better evaluate and teach student writing.
Steve Estes (1995)
What is your current job?
 I live in Northern California, where I am the chair of the History Department at Sonoma State University. When I'm not surfing or playing music, I teach modern US history courses.
How did you find this job?
After earning my MA at UGA, I went on to get a PhD at the University of North Carolina. A PhD is required for tenure-line jobs in the California State University system. Having worked with leading scholars of southern history and civil rights at both UGA and UNC was crucial in helping me land a job in a tight academic market.
What other jobs had you had since graduating?
Besides academic jobs, I also worked as a research associate at an education policy think tank in Washington, DC and as a teacher in an academic enrichment program in the Mississippi Delta. UGA fostered my commitment to both education and civil rights, unifying themes of every job I've had since I left Georgia.
How does your job play to strengths you developed as a graduate student in history?
My first teaching experiences came as a TA for US history classes at UGA, and I use the lessons I learned about good teaching every day in my current job. Interviews with Georgia civil rights activists inspired me to become an oral historian.
The most recent issue of the Journal of Southern History includes my article entitled "Surfing the Sun Belt South: An Oral History" (Nov. 2020).
As an aside, I also played in a band with fellow history grad students at UGA, an experience that continues to shape my love of music today.
Dan Breen (1993)
I grew up in Atlanta, and attended UGA both to get a law degree and an MA in History. I then moved to Boston to pursue a doctorate in History, which I achieved in 2003. Since 2015, I have been teaching full-time at Brandeis University.
What is your current job? I am on a full-time, renewable three-year contract teaching Legal Studies at Brandeis University. My official title is "Senior Lecturer," and I teach five classes a year; three in the Fall and two in the Spring. I actually worked my way from an adjunct status here at Brandeis
What other jobs had you had since graduating? I was Professor of History at Newbury College, in Brookline, MA, prior to taking this position. Before that, while I was earning my Ph.D. at Boston College, I taught History full time at Framingham State Univesity.
How did your work play to strengths you developed as a grad student in history?  I incorporate a historical perspective in all my classes. For example, in my current Introduction to Law class, I am teaching Peter Hoffer's "The Great New York Conspiracy of 1741."
Leon Edmund Basile (1979)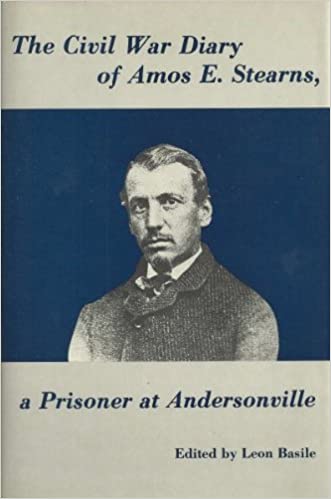 I have remained interested in American history all of my life.  I had hoped to work as an archivist, or at an historical museum, but was not hired as one. I worked in unrelated fields until I retired in 2016. I edited a book titled The Civil War Diary of Amos E. Stearns: a Prisoner at Andersonville (Rutherford, N.J.: Fairleigh Dickinson Univ. Press,1981) and contributed articles to a number of scholarly journals and magazines in the 1970s-80s, on the Antebellum and Civil War eras (social history). In the late 1990s and early 2000s I researched Woburn, Massachusetts, in the 1850s and Civil War period, which resulted in a planned trilogy, each volume to be approximately 900 pages long. Volume One was published in 2012 by the Woburn Historical Society, titled A Union Town During the Civil War: Woburn, Massachusetts. I am currently writing Volume Two of it, and am about 1/3 through it.
Stephen J. Karina (1978)
What is your current job? I am enjoying retirement!
What other jobs had you had since graduating? After two short-term appointments in history, I worked as a technical writer in agricultural economics at UGA for two years, then was designated a research associate (faculty level) for my final four years of employment there. Following that, I attended law school for three years and then practiced law from 1988 to my retirement at the end of 2017. As a  "hobby," I taught an urban planning law class at the University of Maryland each summer from 1988 through 2012.
How did your work play to strengths you developed as a grad student in history? The research skills needed in an administrative/corporate law practice were honed by master's and doctoral research, which built upon earlier research skills acquired as a college debater and humanities undergraduate. The verbal skills required in an administrative litigation environment were a combination of the debate background and my teaching assistantship at UGA. Contrary to television courtroom dramas, most successful lawyers spend more time research and writing than in courtroom appearances.
 

Paul Bolster (1972)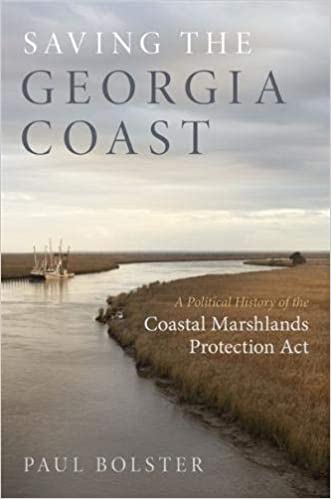 Paul Bolster, a former member of the Georgia House of Representatives (1975-1987), is an historian, freelance writer, and speaker.
What other jobs have you had since graduating?  Clark Atlanta University for 13 years,  a  Member of the Georgia House of Representatives for 12 years, Lobbyist, and Non-profit executive.
How does your work play to strengths you developed as a history major? My training and my legislative experience came together in the research and writing of Saving the Georgia Coast. It was published by the University of Georgia Press in March. Unfortunately in these time of multiple crisis it has received little public attention. It does make an important point about the political life of the state which supported the preservation of the coastal environment 50 years ago.
Saving the Georgia Coast (U Georgia Press, March 2020) brings to light the intriguing and colorful characters who formed that coalition: wealthy island owners, hunters and fishermen, people who made their home on the coast, courageous political leaders, garden-club members, clean-water protectors, and journalists. It explores how that political coalition came together behind governmental leaders and traces the origins of environmental organizations that continue to impact policy today. Saving the Georgia Coast enhances the reader's understanding of the many steps it takes for a bill to become a law.
Colin Baxter (1965)
What is your job? Officially retired from East Tennessee State University as Emeritus Professor of History in 2008; On post-retirement until 2012. My most recent book is The Secret History of RDX: The Super-Explosive that Helped Win World War II, which was published in 2018 by Kentucky Press.
How did you find this job? Having received my undergraduate degree from East Tennessee State University, I was contacted by the Chair of the Department in 1971, and returned to Johnson City, Tennessee. Prior to that time, I had taught at Furman University in Greenville, S.C.
How does your job play to strength you developed as a grad student in history? I and my peers were fortunate in that we were "the few," and relations between the graduate students and their mentors were excellent. While a senior at ETSU, I was recruited to attend Georgia by Dr. Joe Parks who was then Chair of the UGA History Department. I might add that he was a superb Chair of the Department. My thesis and dissertation mentor was Dr. Wilbur Devereux Jones (British history) a brilliant teacher and scholar. Among the other outstanding professors were C. Jay Smith (Russian history), J. Chal Vinson (U.S. Diplomatic history), and Richard Murdoch (Latin American history).
Carole Watterson Troxler (1964)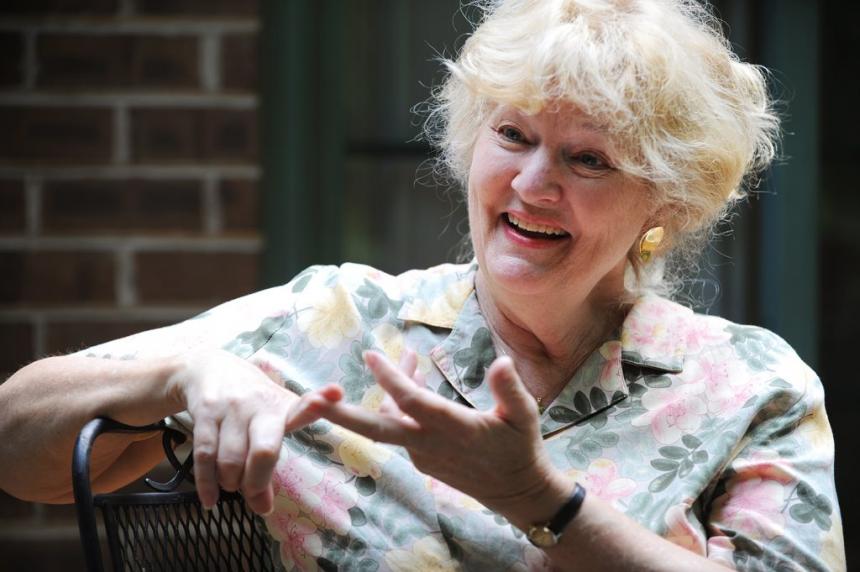 Carole Watterson Toxler is Professor Emerita, Elon University, where she taught from 1970 to 2003. Her scholarly publications include The Loyalist Experience in North Carolina (1976); Shuttle & Plow: A History of Alamance County, North Carolina (co-author with William Murray Vincent, 1999); Pyle's Defeat: Deception at the Race Path (2003), which won the Willie Parker Peace History Book Award; Farming Dissenters: The Regulator Movement in Piedmont North Carolina (2011); The Red Dog: A Tale of the Carolina Frontier (2017), a Young Adult/Adult historical novel; and Sallie Stockard and the Adversities of an Educated Woman of the New South (forthcoming). She has been married over 50 years to the same historian, George W. Troxler. She has two happy and accomplished daughters, and she's an enthusiast of native plants and traditional music of the British Isles. She's an Upland South environmental activist, and she's still writing history.