Five snapshots of library science
Because libraries and archives offer so many different ways to deploy your degree, we invited staff from the UGA Library System to highlight just a few possible options.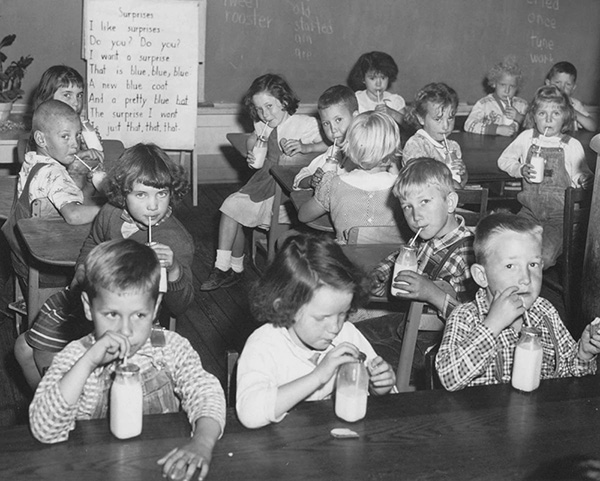 1. Jan Hebbard is the Outreach Archivist for the Russell Library, which is UGA's archive dedicated to politics and policymaking in Georgia. Jan majored in history as an undergrad and has an MA in public history, and this job was a perfect fit: she builds and curates exhibits out of the Russell's collections, organizes lectures and other events for the campus and Athens community to tie into the exhibits, and has just started co-teaching a course with a faculty member for the first time. (The photo at right was part of an exhibit that Jan curated last year called "Food, Power, and Politics: The Story of School Lunch.") Jan's work in history taught her to ask questions about the past, instead of just memorizing facts, and it has helped her draw connections between different fields of study, since so much of her work involves thinking about how to connect the archive's collections to the interests and strengths of the campus and Athens communities.
2. Diane Trap, a reference librarian at UGA's main library, sees her work as a kind of bartending — which was one of her favorite jobs before working in libraries — mixed with a big dose of the humanities. (Diane has a BA in English and a library science MA.) She uses her skills in researching and communicating to serve out whatever information that her patrons want to know, no matter how unpredictable the question.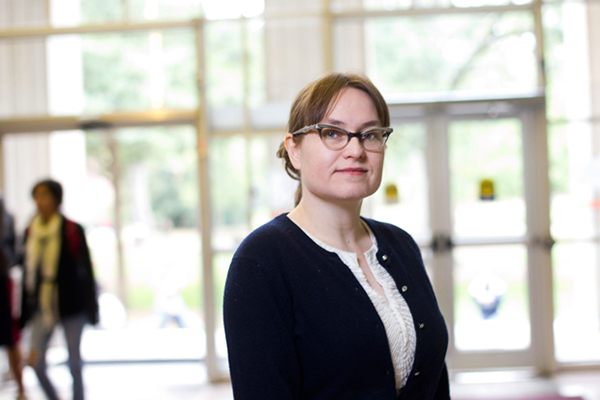 3. Sheila McAlister, Director of the Digital Library of Georgia, works with archives, libraries, and museums across Georgia to help them organize and digitize materials, not only for in-state readers but as part of a partnership with the Digital Public Library of America. She oversees the work of building entries for each item — and writing well is key here — but also budgeting, grant writing and grant reading, computer programming, and digital preservation. She's also a resident sage on copyright law. She has a BA in Byzantine and Medieval Studies and specialized in archives for her masters, and as a director she finds that a mix of subject knowledge and practical experience makes for the strongest job candidates: that helps them really figure out the "puzzle" of analyzing and manipulating data and making it useable for others, too.    
4. Julie Darken, the head of Monographs Cataloging at UGA, is in charge of outfitting each new book with a catalog entry and a kind of invisible roadmap that helps lead patrons to exactly what they're looking for. Even though her department doesn't usually interact with its patrons face to face, "you're always on our minds, because we're always asking: how would you be looking for this, and how would a reference librarian help you find this?" And to answer those questions Julie and her staff need to digest lots of information and distill it to its most important elements, ideally with some foreign language skills to boot — a few hallmarks of a humanities degree!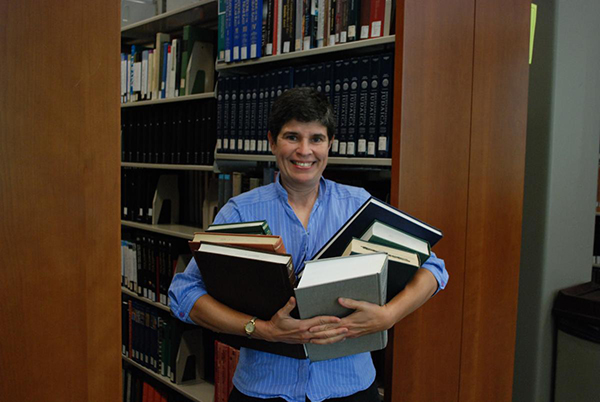 5. Nan McMurry is the head of Collection Development for the library's general collections, although originally she figured that she'd be either a professor or a musician, picking up advanced degrees in both along the way. But she ultimately went into library science because she loved its collaborative environment. Like everyone at this session, Nan's job has evolved a lot from its original parameters into something larger and custom-fit to her interests and skills: now she handles the big decisions about what the libraries should buy, based on UGA's research and teaching strengths and what patrons actually use. Thousands of records of new books pour into Nan's office every month, and that's just how she likes it. "There's something almost intoxicating about the idea of trying to organize all knowledge and make it available as part of a universe…To me that was a big draw: this is an impossible problem, and I want to work on it!"
A few tips, if you're interested in working in a library or archive: you can apply for a student job, staff job, or internship even before you launch into a masters program. Look for internships by joining a statewide archival group, checking out libraries or other research institutions that you like, or just picking a city that appeals to you and seeing what libraries and research institutions it has to offer. The Digital Public Library of Georgia also frequently needs interns, as does the Russell Library — special collections and digital projects are rising fields right now— and UGA's libraries regularly post student positions through Handshake.