There are lots of ways to use your history degree, as you know. But law school is the single most popular choice for history majors, so we wanted to dig into the ways that history and the law sync up with each other. And so we invited a group of experts to bring us up to speed: Roger Grantham, J.D. candidate at UGA and Executive Managing Editor of the Georgia Law Review (B.A. in History at UGA, 2016); Logan Sawyer, Associate Professor of Law at UGA (Ph.D. in History and J.D., University of Virginia); Shannon Shipley Hinson, Associate Director of Admissions and Director of Dual Degree Programs at the School of Law at UGA (B.A. in History at UGA, 2003; J.D. at UGA, 2006); and Endia Sowers Paige, Pre-Law Advisor at UGA (J.D., M.L.S.).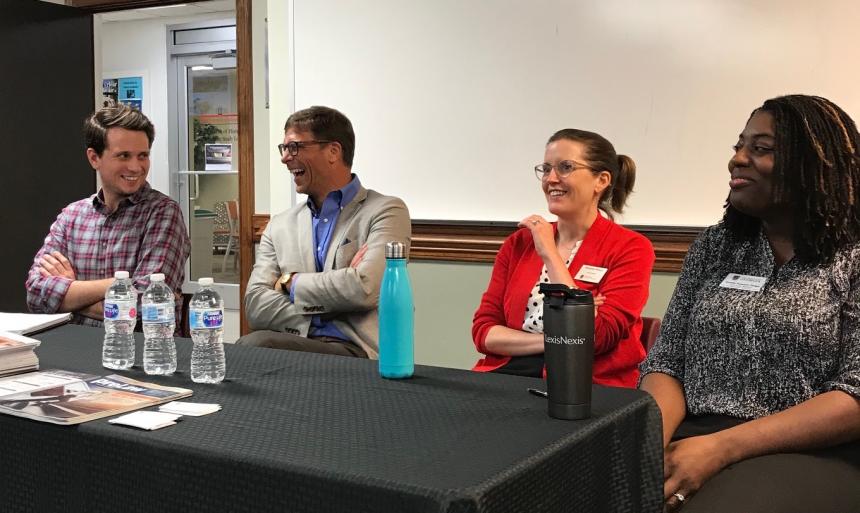 A lot of students are surprised to find out what law school is actually like. It isn't the memorization of law codes, and it's not abstract consideration of knowledge for its own sake. The point is to learn to think like a lawyer. It's a trade: you're trying to figure out how to apply what you know to a particular task, for a particular client. And there are lots of things to do with a law degree once you're finished — such as litigation, corporate law, clerking, government and public-interest work, legal writing instruction, academics, and JD Advantage jobs.
So it's worth thinking about what kind of "task environments" suit you. That means asking yourself what kinds of things you like doing, not just what subject you think is the most interesting. Do you want to spend your time on the phone? With books? Making deals? Arguing with people? You might be set on a job at the Law Library of Congress (as Paige was, for instance), then realize once you get there that you prefer teaching and working with students.
It's also a good idea to visit the schools you're interested in, because their environments will be different, and so will the kinds of careers that their graduates go on to have. Sign up to sit in on a class, take a tour, and ask a lot of questions to current students. You can also make an appointment with Endia Paige to talk about what schools would be a good match for your interests — and to work with her as you prepare your applications. 
Once you get to law school, you'll find that your history degree is an asset. Take your analytical habits, for starters. The kinds of questions you put to primary sources is the same kind of scrutiny you'll use in the law. As Sawyer put it, "When you look at these little pieces of evidence, you learn to read them against the grain. You don't just look at it and say, 'Well I guess this must be true!' You ask, 'Who wrote this? What were they worrying about?' And that skill is critical in law, too, because at law school we're not teaching legal rules. We're teaching you to understand how those rules work, what their contexts are, what the gray areas are, and how to use or resolve them."
And of course, there is writing! Hinson pointed out that the exams you'll take in law school, like some history exams you've probably taken, involve a blend of fact and analysis. You're synthesizing and interpreting what you've learned and applying it to the situation at hand, often on the spot. History is also a good foundation, Grantham added, because as with the law, writing critically means "comparing different authorities, supporting your assertions, and assessing different ways of approaching the issues."
Agreed. "Writing is probably the single most important thing that lawyers need to do well to succeed in their practice." Sawyer said. "Writing in an organized way, making an argument, using evidence, and explaining how that evidence is relevant to the argument you're making is a surprisingly difficult skill to learn." The good news: "You guys have a lot of practice at it."
(Back to History at Work Speaker Series)