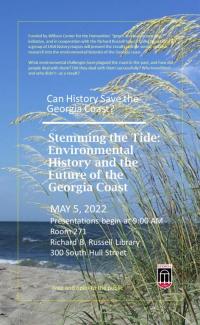 271 Richard B. Russell Library Building, 300 South Hull Street
Can History Save the Georgia Coast?
Join us as a coterie of UGA history majors presents the results of their senior seminar research into the environmental histories of the Georgia coast. Their aim is not only to explore coastal history per se, but to look for a "usable past" as we face the future. What environmental challenges have plagued the coast in the past, and how did people deal with them? Did they deal with them successfully? Who benefited-- and who didn't– as a result?
Climate change sea-level rise are a reality, and they constitute some of the most formidable obstacles humans have ever faced. Our own state of Georgia is no exception. A six-foot rise in ocean levels, for instance, will effectively submerge most of Tybee Island. Salt water intrusion threatens the area's fresh water supply, and the impending losses of salt marshes will be ecologically catastrophic. And people are threatened as surely as nature – especially those who have historically lacked political, economic and social power: the poor and the non-white. The consequences of climate change will inevitably follow the fault lines of race, class, and gender.
Studying the past while facing such a precarious future can seem irrelevant -- what is the point of history if we cannot put it to good use? Why care about the past unless it offers some guide to the future? With this in mind, we invite you to attend.
A free and public event. Student presentations will begin at 9:00 AM.
Download the program of events here.
Funded by the Willson Center for the Humanities' "green and blue humanities" initiative, and in cooperation with the Richard Russell Special Collections Library.