Image: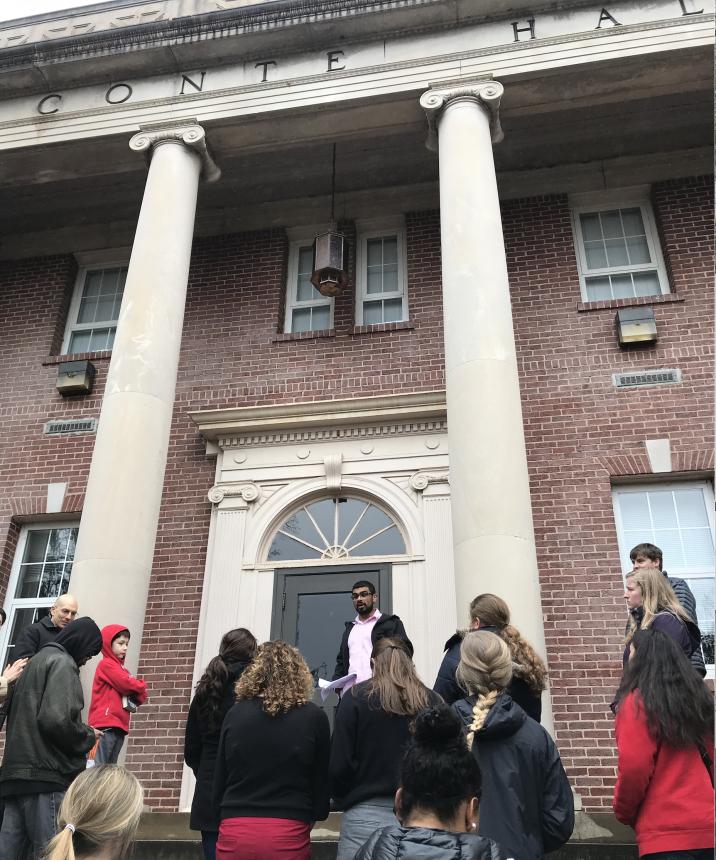 On February 23, 2019, the Department of History hosted a walking tour that highlighted how the histories of persons of color, African Americans in particular, are intertwined with the namesakes and landmarks on UGA's campus.
Phi Kappa Hall, for instance, housed the literary society where many a man — Alexander Stephens, E. Merton Coulter, Joseph LeConte, and Richard B. Russell among them — honed their rhetorical defenses for their racist ideologies. And yet today the Hall also houses the original seats from the Morton Theater, an Athens institution that was founded by Henry "Pink" Morton. Morton was probably the wealthiest African American in the country in his day, and he contributed a considerable amount of wealth from his investments as capital to the black community in Athens.
Other snapshots from the tour:
The Arch was most likely constructed by the enslaved persons who worked at the Athens Foundry.
The Richard B. Russell Building, which houses the archives that many historians used to research this tour, is named after a former governor of Georgia who not only sponsored the National School Lunch act but who was also a white supremacist who combated Civil Rights legislation.
Lumpkin Street commemorates Wilson Lumpkin, also a former governor of Georgia (and later U.S. congressman) who defended the "right" of white men to own slaves and who adamantly advocated for the removal of the Cherokee people from North Georgia.
LeConte Hall, home of the Department of History, is named after Joseph LeConte, a Darwinist, geologist, and unabashed racist who authored a tract that inspired the legislature of Georgia to restrict the voting and marriage rights of African Americans.
Baldwin Hall commemorates Abraham Baldwin, whose support for the Atlantic slave trade helped facilitate the forcible transfer of 90,000 African people to mainland North America in the span of only two decades. The building also stands over the burial grounds of enslaved Athenians. But the university has yet to establish a center on slavery as have other schools with historical ties to slavery, to join the organization Universities Studying Slavery, or to provide reparational scholarships for descendants of the slaves who worked at UGA.
The tour was researched and written by students and faculty in the Department of History, and it was funded by the Department of History and by the Parents Leadership Council at UGA.