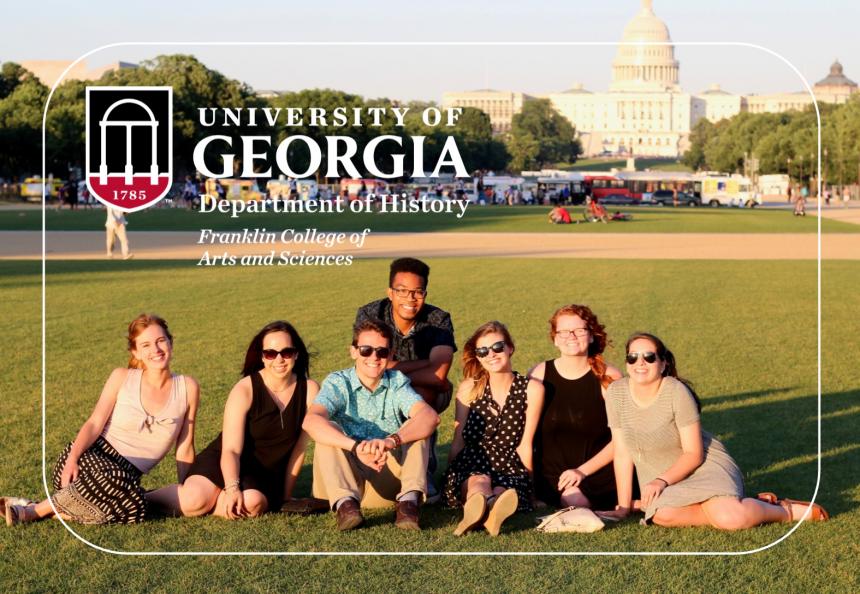 Public history is the work that historians do outside of the university to bring history to a wider audience. This can take place in many different settings but includes historic sites, museums, archives, libraries, parks, and monuments.
The Program
UGA's Summer Program in Public History consists of a two-course sequence (6 credits).
During Maymester students take HIST 4026/6026, Public History in Washington, DC, which offers an introduction to public history in the nation's capital. Whenever possible class meetings are held at cultural institutions in the city. During these site visits, students have frequent opportunities to meet with professionals in the field to discuss the work of public historians. 
In the Thru semester, students enroll in HIST 4800/6800 and intern at a major cultural or historical site in the DC area, getting hands-on experience in public history. Our students have interned at the Library of Congress, the National Archives, the Society of Cincinnati Library, the Eleanor Roosevelt Papers Project, the National Postal Museum, the National Museum of African American History and Culture, the US Capitol Historical Society, the Archives of American Art, the Smithsonian American Art Museum, the National Air and Space Museum,Tudor Place, Woodrow Wilson House, and the Hillwood Estate.
The program is open to undergraduate and graduate students in any major. 
Costs and funding
Students pay UGA tuition and fees for the 6-credit summer program. In addition, there is a program fee of around $3,800, which covers the costs of housing and field trips. These fees do not include meals or living expenses. Students are required to reside in program housing on Capitol Hill and are expected to be in residence in for the extent of Summer Extended Session (mid-May-early August). 
Student financial aid and scholarships may be used to pay for program costs. Contact the Office of Student Financial Aid to determine if your specific sources of financial aid can be used. History majors are also eligible to apply for the Department of History's Study Abroad Scholarships and the Summer Program in Public History Scholarships (see below).
Internship requirements
After students are admitted to the Summer Program in Public History, they will work the program director to identify potential internship options that align with the goals of the program. Students are expected to work at least 20 hours per week for the duration of their internships. Applicants should understand that most internships are highly competitive and unpaid. Students who are unable to secure an internship may participate in a public history internship with the History Department. 
Application details (and Scholarship Application)
To apply to the program, students should fill out the online application form at OIE's StudyAway portal.
If you are applying for the Public History Scholarship you will also need to ask a faculty member to write a letter of recommendation on your behalf. You may upload it and the scholarship application with your program application to the OIE website or the scholarship application and letter of recommendation may be emailed by itself to history@uga.edu by February 1.
The priority deadline for the program application to OIE is January 1. Applications received after that deadline may be considered if spaces remain unfilled. Students who are accepted to the program will be required to submit a non-refundable deposit of $150 by February 15 in order to reserve their place in the program.
For more information please contact Dr. Akela Reason at areason@uga.edu.