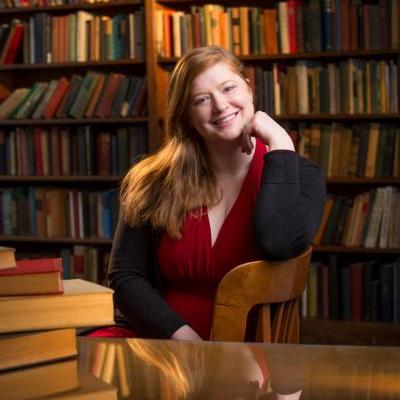 Biography

Laura June Davis's teaching and research focus on American history through the long 19th century, with an emphasis on gender, identity, community, and the military. She is currently working on a dissertation that focuses on sabotage, irregular naval warfare, and masculinity during the Civil War.
Currently, Laura serves as a Got Your 6 mentor, a Certified UGA LGBT Resource Center Safe Space, and a Contributing Editor for The Civil War Monitor, a quarterly magazine. She also holds graduate and professional level certificates in Women's Studies, University Teaching, and Academic Advising.
Research
Selected Publications

Selected Publications:

Davis, Laura J. "Vexed Waters: Naval Guerrillas, Masculinity, And Mayhem Along The Lower Mississippi River, 1861-1865". 2016: n. pag. Print.

Davis, Laura J. "Additional Text And Quotations". The Civil War: A Visual History. Dorling Kindersley Publishing, 2011. Web.
Education

Education:

PhD, University of Georgia, 2016

MA-History, George Manson University, 2009

MS-Curriculum & Instruction, Texas-A&M University-Corpus Christi, 2007

BA-Cum Laude in History, Cornell University 2004
Other Information

Of note:

Research

Summer Doctoral Research Fellowship, UGA Graduate School, 2015
Gregory Dissertation Completion Award, UGA History Department, 2015
Gregory Graduate Student Research Award, UGA History Department, 2015
Gregory Graduate Student Research Award, UGA History Department, 2014
2 Gregory Graduate Student Travel Awards, UGA History Department, 2014
Dean's Award in Arts and Humanities, UGA Graduate School, 2014
Vincent J. Dooley Graduate Research Award in History, University of Georgia, 2013
Gregory Graduate Student Research Award, UGA History Department, 2013
Graduate Research Award, Willson Center for Humanities and Arts, 2013
Gregory Graduate Student Research Award, UGA History Department, 2010
Phi Alpha Theta, April 2007
National Chancellor's List, 2005

Teaching

Excellence in Teaching Award, UGA Graduate School, 2015
Outstanding Teaching Assistant Award, UGA Graduate School, 2011

Service

Blue Key Honor Society, 2012
University of Georgia Rotary, Student Service Award, 2012
Janice E. Arnett Graduate Scholarship, Kappa Delta Foundation, 2012