Image: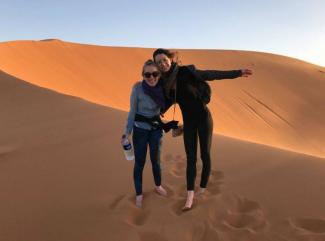 A first-year doctoral student in public history (pictured left--in the desert with a friend), Maggie Neel is the recipient of a competitive Graduate School Research Fellowship. She was interviewed recently by another first year doctoral student, Valerie McLaurin:
Have you always been interested in history? What brought you to do a PhD in history?
I've always been interested in history. It was definitely my favorite subject growing up as a child. I wanted to be an actress and then a politician when I was younger, those were my two things. I was going to be an actress on Broadway and then I was like, "Never mind, I'm not that good." Then I was like, "I'm going to be the Secretary of State." That was my ultimate goal. But I realized that what really drew me to both of those was learning about people, what motivates them, and trying to understand the world. So, I wanted to be an actress because I loved pretending to be other people and getting into the character. And I wanted to be a politician specifically in the State Department because I was really interested in what created the circumstances that we now have, all of these problems, and why we need to have a State Department in the first place. I realized that history was everything behind that. In my sophomore year of college, I decided that I was going to be a history major instead of an international relations major. From that I was exposed to some really incredible professors. They kind of pushed me in the direction, and then my own life experiences had me asking lots of questions that were historically based. I decided that I wanted to answer those questions and the best way to do that was to just keep going to school, keep doing my own research, and a PhD seemed like the way to do it. It was either that or find a Renaissance era Italian man to be my patron of the art of history.
With the multidisciplinary perspective that you have on history, how does that inform your research interests now and what you're going to be pursuing?
In school I had like a pretty traditional history focus at first. I was interested in French imperialism and colonialism in North Africa, particularly Morocco. But I started learning more and more about the built environment. I was a backpacking guide in New Mexico for three summers and during those summers the program I was with did a lot of interpretation of historic sites. They had areas where there was living history, preservation of specific buildings and sites, a whole section where they did archeology, and interpretation of ancestral Puebloan petroglyphs. They did a lot of historic interpretation there, but in a very skewed way. They held themselves to specific standards, but it's not a national park. They have no federal mandate to how they interpret or what they interpret. So that can often mean that they approached this in a very Boy Scout-centric, white manhood-centric way. Things have changed and gotten so much better. But there's still those remnants. While I was there, I got really interested in thinking about why that was, how it came to be, how that in turn affected the experience of people who came through. For me, there were a bunch of camps where women were not interpreted. Only men worked there, and only men were interpreted in the history. And I was like, "That's not true. There were women here." And either people would deny that women were here, or they would say something like, "They were only sex workers and we don't want to interpret that for Boy Scouts because that would be bad for young teenage boys, so we're not going to do that." So, for me, that kind of diminished my connection to the land. The only time women worked in living history camps were on homesteading camps, which were very much like, "the woman did the cooking" and helped enforce these gender roles. And that was only white women. There was no interpretation about any people of color, particularly women of color. The only sites that interpreted Native history were the area of the Jicarilla Apache, the ancestral Puebloan, and the Comanche. Incredible Native history. All of that history was interpreted retroactively and not as a continuous thing. Very much archeology based, very much in the past when these people lived here as opposed to actually talking about the fact that the majority of the town we are in was probably of Native and or Spanish descent. It was really interesting to see there's this living country part but its being so decontextualized and denying that connection. That got me interested in interpretation. While I was there, I also worked and became good friends with the historic preservation people, the people who actually preserve physical buildings and landscape features. They conserve and preserve these things. They had incredible ideas on architecture. I went back and took a bunch of courses in architectural history and did a couple of things on philosophy of heritage and interpreting of historic sites. Those were all philosophy and environmental science based. That brought in my interests in historic preservation and the idea of built environments. Then I worked for a year with the National Parks in the archeology department. I worked with mostly anthropologists and archeologists and museum people: curators, archivists. That really got me interested in the idea of material culture and how material culture could be used as evidence. Through that I got interested in museum studies and particularly using not just written sources but materials, environments, and landscapes as sources. I think it opens up a lot of venues that some historians don't look towards as much. And it's a way of bringing in different types of evidence to use in your historical study which can diversify and bring a new multidisciplinary way of looking at history.
How do you see yourself using the perspective of public history at UGA?
This ties in to one of the reasons why I came to UGA, because of the Museum Studies program and the Historic Preservation program. Although I'm working on a PhD in history, I also have the chance to get that certificate where I can focus on museums and material objects, and I can also focus on historic preservation, interpretation, built environments and cultural landscapes. A lot of history programs will not let you do that. There's some American Studies programs that will help you go in that direction. But most history programs, which is what I really wanted to do, because I'm fully based in history, will not let you use the services or go outside of the program and get a masters or work in other departments. UGA is pretty unique. People from the College of Environment and Design basically helped facilitate that. I'm lucky enough that I have those options, and that Dr. Akela Reason is really interested in museums and she has an art history degree and an anthropology degree. She has those backgrounds but is still in the history department. And we also just got Professor Brooks and he's also very focused on historic preservation and interpretation of public history. So, UGA had that base on which I could build from. There's lots of opportunities through those programs. The Museum Studies program requires an internship involved in museums. There's the DC program which is a program where you work in public history in DC. That's a great way to apply it, continue learning, and also continue doing application of research while researching the actual process of history. Also, at the Special Collections Library there's the museum curation internship over the summer where you get the stipend to look through archives and develop an actual forward-facing program. Sara and I were also talking about the University of Alabama's walking tour of slavery and how we as public historians and people interested in public history might be able to do a similar thing if there is room for that. Although a lot of people have already done a lot of groundwork and research behind that. I don't know if we want to do that and take credit for the work, but it's another option. So, there's a lot of these practical applications, but there's also the people who have studied this theoretically, which is what I'm interested in. A lot of people who are interested in public history get a master's and want to go in to work in the field, and I would like to do work in the field, but really what I'm interested in is theoretically, why do we have public history? What is the basis for it? How does that affect nationalism? So, the questions that I'm asking are less about how you do it well and how you apply it. More about why do we do it? What are the effects? The professors that we have here, that's what they do, that's their work. Having that support is a good way to know that I can have both the practical applications and actually be doing things in public history as facilitated by UGA. And also know that when I want to get into the nitty gritty archival stuff, UGA also has professors who support that and are interested in that kind of work. Public history is not just the application of public history. You can't just apply public history. You have to think about how and why and what you're doing and what are the historic effects of it? How's it being used? How can we use it better? You can do a lot of that work in a master's, but I want to go beyond just a thesis. I want to write something way more in depth than that.
What are you looking forward to most in your first year at UGA?
What's been wonderful and I'm very excited about overall is being around a community of people who, even if our specific interests vary, everyone is so into history. I think a lot of people in undergrad find their group of people, but sometimes that group of people don't have the same major. Sometimes it's hard to talk about what you're learning about or what you're really interested in in a way that inspires the same amount of passion and interest. Being around people who are all fully dedicated to the study and practice of history and are so excited and passionate about it, it gets me more excited, it gets me more passionate, it makes me more interested in my work. So I'm most looking forward to being around a community of like-minded people who encourage and get each other excited about doing history.